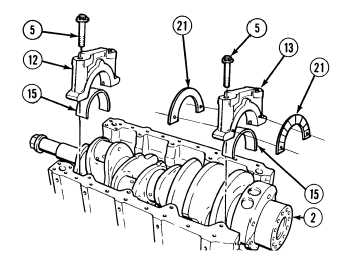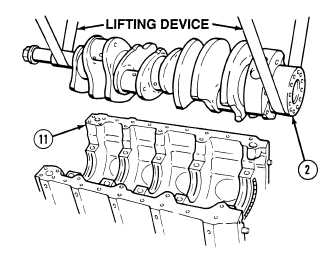 TM 9-2320-364-34-4
20-101
(18)
Remove four screws (5) and bearing caps
(12) and (13) from crankshaft (2).
(19)
Remove lower bearing shells (15) from
bearing caps (12) and (13).
(20)
Remove two thrust washers (21) from
bearing cap (13). Measure and note thrust
washer thickness.  Discard thrust washers.
Crankshaft weighs 185 lbs (84
kg).  Attach suitable lifting
device prior to removal to
prevent possible injury to
personnel.
Crankshaft may be bent if stored
on side.  Store crankshaft on end
or damage to crankshaft may
result.
(21)
Attach lifting device to crankshaft (2).
(22)
With the aid of an assistant, remove
crankshaft (2) from engine block (11) and
position on clean work surface.