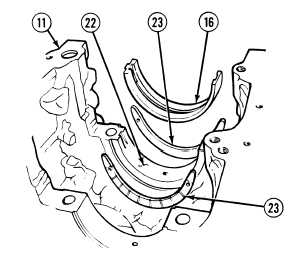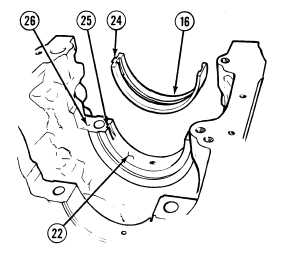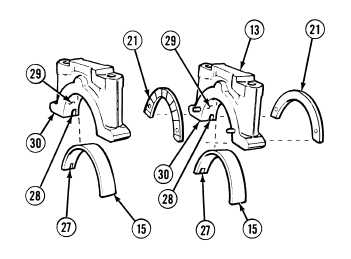 TM 9-2320-364-34-4
20-102     
20-42.  MAIN BEARING AND CRANKSHAFT REMOVAL (CONT).
(23)
Remove two remaining upper bearing
shells (16) from bearing surfaces (22) at
front and rear of engine block (11).
(24)
Remove two thrust washers (23) from
bearing surface (22). Measure and note
thrust washer thickness.  Discard thrust
washers.
NOTE
·
If runout measured in Step (17)
is not within limits, perform
Steps (25) through (35) to see if
bearing shell caused crankshaft
runout.
·
Upper bearing shells have a
through slot for lubrication.
·
Use new bearing shells for
second runout test.
(25)
Align tab (24) on upper bearing
shell (16) with slot (25) on engine block
rear bearing surface (22).
(26)
Install bearing shell (16) on bearing
surface (22).  Insure both ends of bearing
shell are flush with bearing cap mounting
surfaces (26).
(27)
Align tabs (27) with slots (28) and install
lower bearing shells (15) on bearing cap
mounting surfaces (29).  Ensure both ends
of bearing shells are flush with bearing cap
mounting surfaces (30).
(28)
Install two thrust washers (21) on rear
bearing cap (13) with grooved sides of thrust
washers facing away from bearing cap.