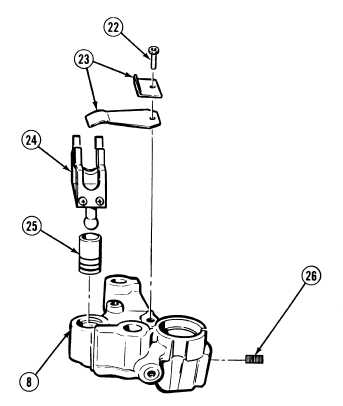 TM 9-2320-364-34-4
20-110     
20-44.  ENGINE BRAKE RETARDER REPAIR (CONT).
b.
Cleaning/Inspection.
·
Fuel is very flammable and can explode easily.  To avoid serious injury or death, keep fuel
away from open fire and keep fire extinguisher within easy reach when working with fuel.
Do not work on fuel system when engine is hot.  Fuel can be ignited by hot engine.
·
Compressed air used for cleaning purposes will not exceed 30 psi (207 kPa).  Use only
with effective chip guarding and personal protective equipment (goggles/shield, gloves,
etc).  Failure to comply may result in injury or death to personnel.
(1)
Clean housings and parts with diesel fuel.
(2)
Dry parts with compressed air.
(3)
Inspect all parts for nicks, burrs, scratches or dents.  Replace damaged parts.
c.
Assembly.
Adhesives, solvents, and sealing
compounds can burn easily, can
give off harmful vapors, and are
harmful to skin and clothing.  To
avoid injury or death, keep away
from open fire and use in well-
ventilated area.  If adhesive,
solvent, or sealing compound
gets on skin or clothing, wash
immediately with soap and water.
NOTE
·
All eight engine brake
retarders are assembled the
same way.
·
Perform Step (1) only if
plugs were removed.
(1)
Coat threads on two plugs (26) with sealing
compound and install in supply housing (8).
(2)
Apply lubricating oil to pump piston (25).
(3)
Install pump piston (25) and piston fork
assembly (24) in supply housing (8).
(4)
Apply sealing compound to threads of screw (22).
(5)
Install valve spring and retainer assembly (23) in supply housing (8) with screw (22).  Tighten screw to
50 lb-in  (6 N.m).