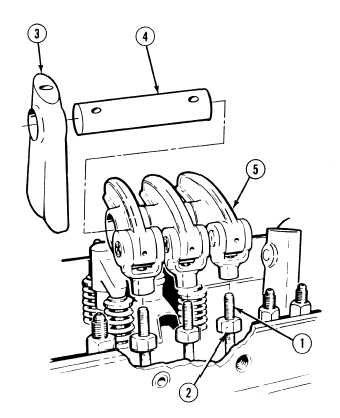 TM 9-2320-364-34-4
20-114     
Materials/Parts
Oil, Lubricating (Item 36, Appendix B)
Solvent, Drycleaning (Item 68, Appendix B)
Tags, Identification (Item 72, Appendix B)
Bushing (Item 21, Appendix E)
This task covers:
a.  Disassembly
c.   Assembly
b.  Cleaning/Inspection
d.   Follow-On Maintenance
INITIAL SETUP
Equipment Condition
Engine brake retarder removed, (Para 20-14)
Tools and Special Tools
Tool Kit, General Mechanic's
(Item 240, Appendix F)
Compressor, Unit, Air (Item 35, Appendix F)
Gage Set, Feeler (Item 66, Appendix F)
Gloves, Chemical Oil Protective
(Item 81, Appendix F)
Goggles, Industrial (Item 83, Appendix F)
Gun, Airblow (Item 86, Appendix F)
Press, Arbor, Hand Operated
(Item 162, Appendix F)
Reamer Set, Hand (Item 181, Appendix F)
20-45.  ROCKER ARM REPAIR.
a.
Disassembly.
NOTE
All 24 rocker arms are removed
the same way.
(1)
Hold three push rods (1) and loosen three
locknuts (2).
(2)
Remove two brackets (3) from rocker
shaft (4).
·
Do not force rocker arms all
the way back with shaft in
place.  Failure to comply
could result in damage to
push rods.
·
Rocker arms need to be
raised and moved toward
center of engine to permit
removal of shaft or damage
to parts may occur.
(3)
Raise three rocker arms (5) and shaft (4)
slightly.