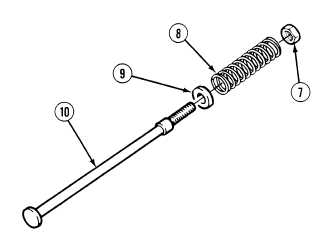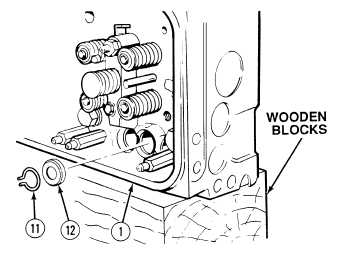 TM 9-2320-364-34-4
20-121
Spring is under extreme tension.
Wear proper eye protection.
Spring may shoot out and cause
injury to personnel.
(5)
Remove locknut (7), spring (8) and lower
spring seat (9) from push rod (10).  Discard
locknut and spring.
Use extreme care when
removing spring retainers.
Spring retainers are under
tension and can act as projectiles
when released suddenly.  Ensure
proper eye protection is worn to
prevent injury to personnel.
NOTE
Spring retainer must point in
proper direction when installed.
Mark direction of spring retainer
prior to installation.
(6)
Remove spring retainer (11) from top side of
cylinder head (1).
(7)
Remove upper spring seat (12) from
cylinder head (1).