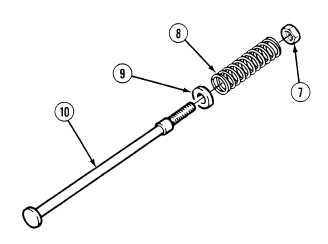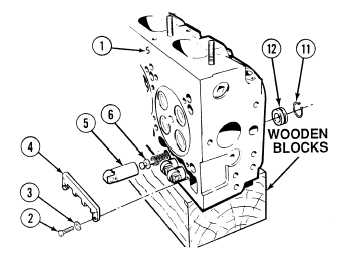 TM 9-2320-364-34-4
20-123
(11)
Rotate cam followers during soaking.
(12)
Remove cam followers from pail and allow to air
c.
Assembly.
NOTE
·
Apply lubricating oil to all
parts before installation.
·
All 24 cam followers are
installed the same way.
(1)
Install lower spring seat (9), spring (8) and
locknut (7) on push rod (10).
Use extreme care when installing
spring retainers.  Spring
retainers are under tension and
can act as projectiles when
released suddenly.  Ensure
proper eye protection is worn to
prevent injury to personnel.
NOTE
Ensure spring retainers are
installed same as marked during
removal.
(2)
Install upper spring seat (12) and spring
retainer (11) in topside of cam follower bore
of cylinder head (1).
(3)
Install push rod assembly (6) in cylinder
head (1).
NOTE
Cam follower should be
positioned so oil hole points
away from exhaust valves.
(4)
Install cam follower (5) over push rod
assembly (6) and in cylinder head (1).
(5)
Install cam follower guide (4), two
lockwashers (3) and screws (2) in cylinder
head (1).