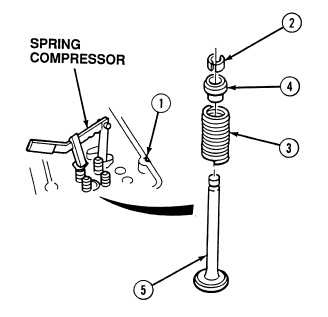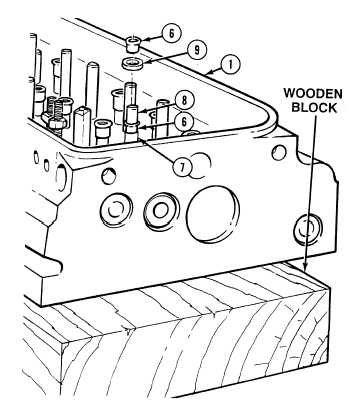 TM 9-2320-364-34-4
20-126     
20-48.  EXHAUST VALVE REPAIR (CONT).
a.
Disassembly.
Use extreme care when
compressing spring.  Spring is
under tension and can act as a
projectile when released and
could cause severe eye injury.
NOTE
·
All 32 exhaust valves are
removed the same way.
·
Number and tag each valve
upon removal to ensure
installation in same location.
·
Position cylinder head on
wooden blocks.  Wooden
block under valve will
support valve while two-
piece valve lock is being
removed.
(1)
Install spring compressor on cylinder
head (1).
(2)
Remove and discard two-piece valve lock (2)
by compressing spring (3) on spring cap (4).
(3)
Release pressure on spring (3).
(4)
Remove spring cap (4) and valve spring (3)
from exhaust valve (5).  Discard spring.
(5)
Repeat Steps (1) through (4) for each valve
being removed.
(6)
Remove spring compressor from cylinder
head (1).
(7)
Remove valve guide seal (6) from valve
guide (7).  Discard seal.
(8)
Turn cylinder head (1) on side and remove
valve (8) from bottom of cylinder head (1).
(9)
Remove valve seat (9) from valve guide (7).