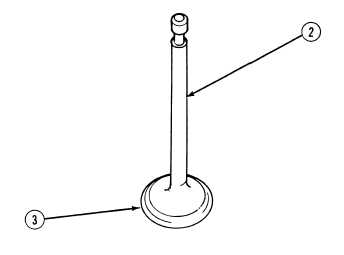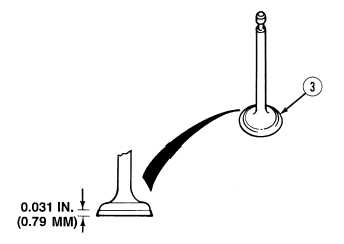 TM 9-2320-364-34-4
20-127
b.
Cleaning/Inspection.
·
Fuel is very flammable and can explode easily.  To avoid serious injury or death, keep fuel
away from open fire and keep fire extinguisher within easy reach when working with fuel.
Do not work on fuel system when engine is hot.  Fuel can be ignited by hot engine.
·
Compressed air used for cleaning purposes will not exceed 30 psi (207 kPa).  Use only
with effective chip guarding and personal protective equipment (goggles/shield, gloves,
etc).  Failure to comply may result in injury or death to personnel.
(1)
Clean parts with fuel oil.
(2)
Dry all parts with compressed air.
(3)
Inspect spring seat and spring caps for wear,
nicks, burrs or scratches.  Replace damaged
parts.
(4)
Inspect valve stem (2) and valve face (3) for
cracks, pitting, and warpage.  Replace if
damaged.
(5)
Inspect outer diameter of valve face (3) for
scoring or galling.  Replace if damaged.
NOTE
Perform Steps (6) through (9)
only if exhaust valve is being
reused.
(6)
Grind exhaust valve face (3) using 31 degrees
grinding stone.
(7)
Edge of valve face (3) must not be less than
0.031 in. (0.79 mm) thick after grinding.  If
edge of valve face is less than 0.031 in.
(0.79 mm) after grinding, discard valve.
(8)
Clean valve with diesel fuel.
(9)
Dry with compressed air.