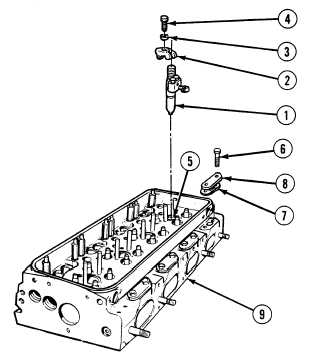 TM 9-2320-364-34-4
20-138
20-49.  CYLINDER HEAD REPAIR (CONT).
c.
Pressure Testing.
NOTE
Perform magnetic particle and fluorescent penetrant inspections before pressure testing.
These inspections will locate exterior cracks.  Replace cylinder head if cracks are detected.
(1)
Install four injectors (1) (removed in Para
4-2) with clamps (2), washers (3) and
screws (4) in injector tubes (5).  Tighten
screws 20 to 25 lb-ft (27 to 34 N.m).
Adhesives, solvents, and sealing
compounds can burn easily, can
give off harmful vapors, and are
harmful to skin and clothing.  To
avoid injury or death, keep away
from open fire and use in well-
ventilated area.  If adhesive,
solvent, or sealing compound
gets on skin or clothing, wash
immediately with soap and
water.
(2)
Apply coat of sealing compound to threads
of eight screws (6).
(3)
Install four gaskets (7) and covers (8) on
cylinder head (9) with eight screws (6).
Tighten to 26 to 29 lb-ft (35 to 39 N.m).
(4)
Align test fixture on top of bottom face of
cylinder head (9) so rubber stoppers cover
water inlets (10).
Do not overtighten hold-down
cap screws.  Rubber stopper
could distort enough to seal off
outer diameter of water nozzle.
Leak would not be detected from
outer diameter.
(5)
Install and tighten six hold down screws on
test fixture until rubber stoppers start to
flatten out.