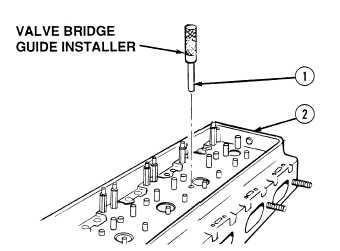 TM 9-2320-364-34-4
20-148
20-51.  VALVE BRIDGE GUIDE REPAIR (CONT).
b.
Assembly.
Adhesives, solvents, and sealing
compounds can burn easily, can
give off harmful vapors, and are
harmful to skin and clothing.  To
avoid injury or death, keep away
from open fire and use in well-
ventilated area.  If adhesive,
solvent, or sealing compound
gets on skin or clothing, wash
immediately with soap and
water.
NOTE
All 16 valve bridge guides are
installed the same way.
(1)
Apply International No. 2 compound to
valve bridge guide (1).
NOTE
Bridge guide is positioned in
cylinder head with undercut edge
of bridge guide installed in hole
in cylinder head.
(2)
Position bridge guide (1) in hole in cylinder
head (2).
(3)
Using valve bridge guide installer, install
bridge guide (1) straight into cylinder
head (2) until seated.
c.
Follow-On  Maintenance:
·
Assemble cylinder head, (Para 20-49).
END OF TASK