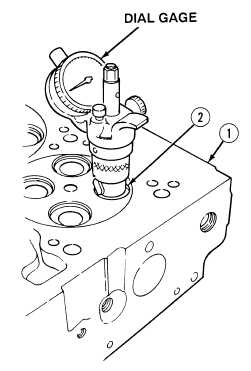 TM 9-2320-364-34-4
20-151
c.
Assembly.
Cylinder head must be preheated
in hot water to a temperature of
180 to 200 degrees F (82 to 93
degrees C) or damage to the
valve seat insert would result.
Do not use propane torch to
preheat.
NOTE
·
All inserts are installed the
same way.
·
Install inserts while cylinder
head is still hot.
(1)
Position cylinder head (1), machined side
up, on wooden blocks.
(2)
Position valve seat insert (2), seat side up, in
counterbore (3).
(3)
Using valve seat insert installer, drive valve
seat insert (2) until fully seated in cylinder
head (1).
NOTE
If runout exceeds 0.002 in. (0.05
mm), regrind valve seat.
(4)
Set dial gauge on cylinder head (1) and
check roundness of each valve seat insert
(2) relative to valve guide.  Total runout
must not exceed 0.002 in. (0.05 mm).
d.
Follow-On  Maintenance:
·
Assemble cylinder head, (Para 20-49).
END OF TASK