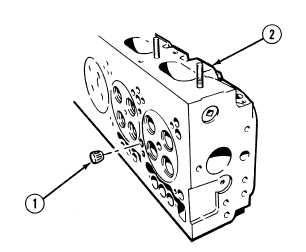 TM 9-2320-364-34-4
20-158
b.
Cleaning/Inspection.
Compressed air used for
cleaning purposes will not
exceed 30 psi (207 kPa).  Use
only with effective chip guarding
and personal protective
equipment (goggles/shield,
gloves, etc).  Failure to comply
may result in injury or death to
personnel.
(1)
Clean shavings from cylinder head (2) with
compressed air.
(2)
Inspect water nozzle holes for cracks and
damage.  If damaged, replace cylinder head
(2).
(3)
Inspect water inlet ports for cleanliness and
deposit buildup.
c.
Assembly.
NOTE
·
All water nozzles are
installed the same way.
·
Water nozzles are installed
until flush or recessed less
than 0.015 in. (0.38 mm)
below cylinder head surface.
(1)
Install water nozzle (1) in cylinder head (2).
d.
Follow-On  Maintenance:
·
Assemble cylinder head, (Para 20-49).
END OF TASK