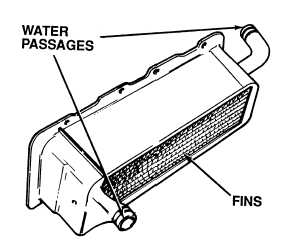 TM 9-2320-364-34-4
20-163
Materials/Parts
Solvent, Drycleaning (Item 68, Appendix B)
This task covers:
a.  Cleaning/Inspection
INITIAL SETUP
Equipment Condition
Aftercooler on clean work surface.
Tools and Special Tools
Tool Kit, General Mechanic's
(Item 240, Appendix F)
Compressor Unit, Air (Item 35, Appendix F)
Gloves, Chemical Oil Protective
(Item 81, Appendix F)
Goggles, Industrial (Item 83, Appendix F)
Gun, Airblow (Item 86, Appendix F)
Steam Cleaner (Item 227, Appendix F)
20-56.  AFTERCOOLER INSPECTION.
a.
Cleaning/Inspection.
(1)
Inspect all cooler fins and air and water
passages for plugging, bent, broken, leaking,
or other obvious damage.  Replace damaged
parts.
(2)
Clean fins of dirt or any other foreign
obstructions with a small brush.
·
Some chemical agents (detergents, solvents, alkalis, etc.) may irritate skin or be harmful to
the eyes.  Others must only be used with adequate ventilation.  When working with
potentially harmful chemical substances, read and heed the warnings on the product labels
and follow-prescribed safety precautions.  When working with any potentially harmful
substance - including live steam, hot water, and compressed air - wear appropriate safety
equipment (face shield, gloves, apron, etc.) if required, and use extreme care to avoid
injury to personnel.
·
Avoid contact with steam.  Steam can cause burns, blindness, and other serious injury.
Ensure the wearing of protective aprons, gloves, and safety goggles when using live steam.
(3)
Using steam cleaner or high pressure hot water rinse, clean outside of core to remove any loose deposits
or debris.