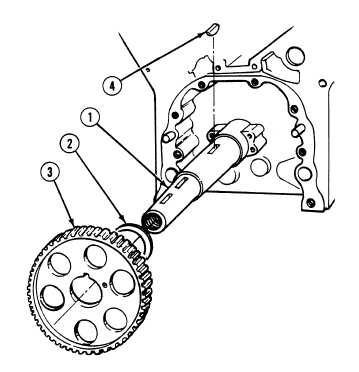 TM 9-2320-364-34-4
20-173
Materials/Parts
Oil, Diesel, Fuel (Item 32, Appendix B)
This task covers:
a.  Cleaning/Inspection
INITIAL SETUP
Equipment Condition
Oil pump drive gear on clean work surface.
Tools and Special Tools
Tool Kit, General Mechanic's
(Item 240, Appendix F)
Compressor Unit, Air (Item 35, Appendix F)
Gage Set, Telescoping (Item 69, Appendix F)
Gloves, Chemical Oil Protective
(Item 81, Appendix F)
Goggles, Industrial (Item 83, Appendix F)
Gun, Airblow (Item 86, Appendix F)
Micrometer, Outside, Caliper, Set
(Item 139, Appendix F)
20-59.  ENGINE OIL PUMP DRIVE GEAR INSPECTION.
a.
Cleaning/Inspection.
Fuel is very flammable and can
explode easily.  To avoid serious
injury or death, keep fuel away
from open fire and keep fire
extinguisher within easy reach
when working with fuel.  Do not
work on fuel system when engine
is hot.  Fuel can be ignited by hot
engine.
(1)
Clean crankshaft (1), spacer (2), gear (3)
and key (4) with diesel fuel.