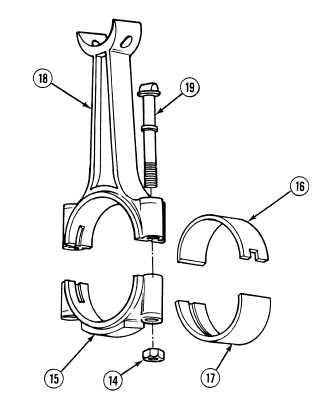 TM 9-2320-364-34-4
20-184
20-60.  PISTON AND CONNECTING ROD REPAIR (CONT).
NOTE
Perform Step (11) only if
connecting rod bolts were
removed.
(11)
Install two connecting rod bolts (19) in
connecting rod (18).
(12)
Position two bearing shells (16) and (17),
bearing cap (15) and two nuts (14) in
connecting rod (18).
(13)
Install two spacers (8) on screws (7) in
connecting rod (1).
Adhesives, solvents, and sealing
compounds can burn easily, can
give off harmful vapors, and are
harmful to skin and clothing.  To
avoid injury or death, keep away
from open fire and use in well-
ventilated area.  If adhesive,
solvent, or sealing compound
gets on skin or clothing, wash
immediately with soap and
water.
(14)
Apply small amount of International
Compound No. 2 to threads and head
contact surface of two screws (7).
(15)
Align matchmarks and position connecting
rod (1) into piston skirt (3) with two
screws (7).
(16)
Position connecting rod (1) in vise with soft
jaws.
(17)
Tighten screws (7) in connecting rod (1)
55 to 60 lb-ft (75 to 81 N.m).