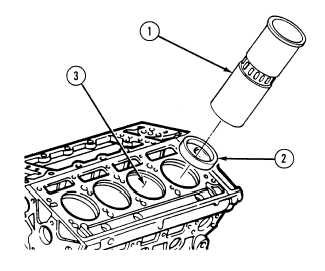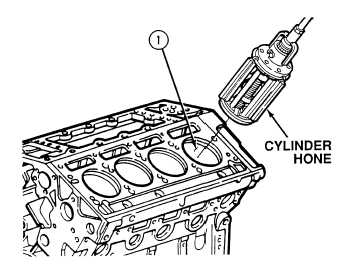 TM 9-2320-364-34-4
20-190
20-61.  CYLINDER LINER REPAIR (CONT).
Do not drop cylinder liner into
cylinder bore.  Damage to
cylinder liner will result.
NOTE
·
Cylinder liners must be
installed in their original
bores.
·
Cylinder liner is installed
when liner flange rests on
insert.
(8)
Install cylinder liners (1) and inserts (2) in
cylinder bore (3).
b.
Honing.
Do not hone new cylinder liner.
New liners are factory finished
and honing could affect seating
of piston rings.  Hone the liner if
glazed, ridged, out of round, or
tapered.
(1)
Coat inside of cylinder liner (1) with
honing oil.
(2)
Install hone with 120 grit stones, into
cylinder liner (1).
(3)
Work hone up and down in cylinder liner (1)
at 300 to 400 rpm.  Move hone full length of
cylinder liner (1) so hone produces marks in
crisscross pattern at a 45 degrees angle.
(4)
Remove hone after glaze has been removed
from cylinder liner (1).