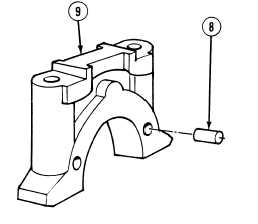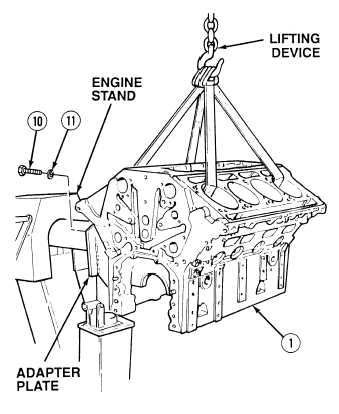 TM 9-2320-364-34-4
20-212
20-64.  ENGINE CYLINDER BLOCK REPAIR (CONT).
(15)
Inspect dowel pins (8) on rear main bearing
retainer cap (9) for looseness and
extension.  Dowel pins (8) must extend
minimum of 0.110 in. (2.794 mm) and
maximum of 0.120 in. (3.048 mm).  If
dowel pins (8) are loose, replace with
oversized pins.
(a)
Remove old dowel pins (8) and drill
dowel holes with number 11 drill bit.
(b)
Press in new dowel pins (8) to specified
height.
(c)
After pressing in dowel pins (8),
remove all burrs from base of dowel
pins to permit proper seating of thrust
washers.
Engine block weighs 732 lbs
(332 kg).  Attach suitable lifting
device before removal to prevent
possible injury or death to
personnel.
(16)
Using lifting device, support engine
block (1).
(17)
With the aid of an assistant, remove six
screws (10), lockwashers (11), and adapter
plate from engine stand.
(18)
Using lifting device, lower engine block (1)
and position on floor.