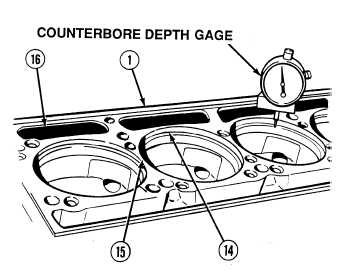 TM 9-2320-364-34-4
20-214
20-64.  ENGINE CYLINDER BLOCK REPAIR (CONT).
NOTE
·
Cylinders may be
counterbored to either of
two depths.
·
If depth is not between
0.4755 in. (12.0777 mm)
and 0.477 in. (12.116 mm)
or between 0.4905 (12.4587
mm) and 0.4920 in.
(12.4968 mm) and cannot be
brought into limits by
installing cylinder liner
insert, replace engine block.
(27)
Using depth gage, measure depth of
counterbore (14).
(28)
If counterbore (14) varies more than 0.0015
in. (0.0381 mm) around edge of cylinder,
replace engine block (1).
NOTE
If two adjacent cylinders are in different counterbore depth ranges measured in Step (27)
above, perform Step (29).
(29)
If difference between any two adjacent cylinder counterbores (14) measured at their closest point (15) is
more than 0.0015 in. (0.0381 mm), replace engine block (1).
NOTE
If counterbore diameter or camshaft bearing bores are not within specifications, replace
engine block.
(30)
Measure counterbore (14) diameter.  Counterbore diameter must be minimum
of 5.5550 in. (141.0970 mm) and maximum of 5.5600 in. (141.2240 mm).
(31)
Measure inside diameter of camshaft bearing bores (16).  Diameter must be minimum of 2.1875 in.
(55.5625 mm) and maximum of 2.1889 in. (55.5981 mm).