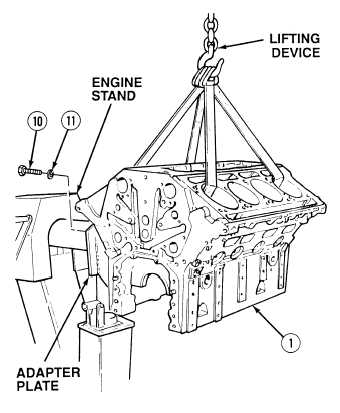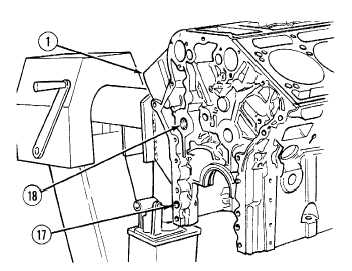 TM 9-2320-364-34-4
20-215
Engine block weighs 732 lbs
(332 kg).  Attach suitable lifting
device before removal to prevent
possible injury or death to
personnel.
(32)
Using lifting device, raise engine block (1)
up to engine stand.
(33)
Install adapter plate on engine stand with
six screws (10) and lockwashers (11).
Tighten screws to 147 lb-ft (199 N.m).
Engine block weighs 732 lbs
(332 kg).  Attach suitable lifting
device before removal to prevent
possible injury or death to
personnel.
(34)
Inspect dowel holes (17) in engine block
(1) for oversize holes or damage.  Replace
engine block if damaged or oversize.
(35)
Inspect threaded holes (18) for stripped or
crossed threads.  Use tap to clean threads.