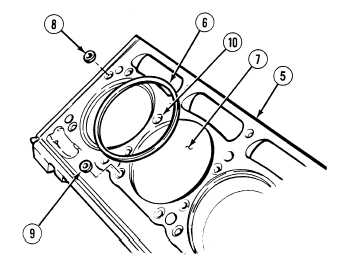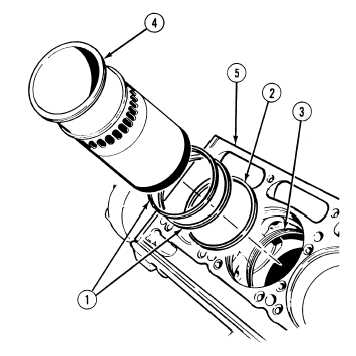 TM 9-2320-364-34-4
20-222
20-64.  ENGINE CYLINDER BLOCK REPAIR (CONT).
d.
Pressure Testing.
(1)
Coat seal rings (1) with lubricating oil.
Ensure correct cylinder liners
and inserts are installed in the
same cylinder bore from which
they were removed.
(2)
Install two seal rings (1) and insert (2) in
each cylinder bore (3).
Care must be taken when
installing cylinder liners in
cylinder bores or damage to seal
rings will result.
(3)
Install eight cylinder liners (4) in engine
block (5).
(4)
Install eight compression gaskets (6) in
cylinder (7).
(5)
Install two oil seals (8) and 15 water seals (9)
in 34 counterbored holes (10) in both sides
of engine block (3).