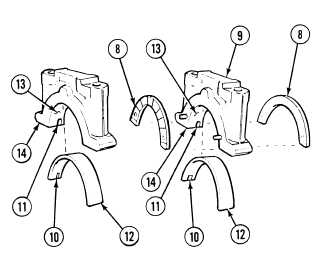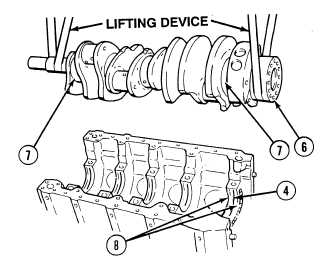 TM 9-2320-364-34-4
20-229
Crankshaft weighs 185 lbs (84
kg).  Attach suitable lifting
device prior to installation to
prevent possible injury to
personnel.
(5)
Attach lifting device to crankshaft (6).
(6)
With the aid of an assistant install
crankshaft (6) on engine block bearing
surface (4).
(7)
Apply lubricating oil to five crankshaft main
bearing journals (7).
NOTE
Upper thrust bearing can be
started at top of crankshaft and
slid in place around bearing.
(8)
Push crankshaft (6) to front and install
thrust washer (8) on bearing cap (9) with
ground sides of thrust washer facing away
from bearing.  Push crankshaft to rear and
install other thrust washer (8).
(9)
Align tab (10) with slot (11) and install
lower bearing shell (12) on bearing cap
mating surface (13), making sure both ends
of bearing shell are flush with bearing cap
(14) mounting surfaces .
(10)
Install four other lower bearing shells (12).
(11)
Install two thrust washers (8) on bearing
cap (9) with grooved sides of thrust
washers facing away from bearing cap.