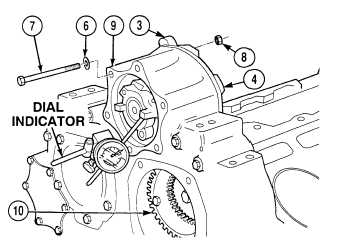 TM 9-2320-364-34-4
20-289
NOTE
Screw, washer and nut are from blower.
(5)
Install washer (6), screw (7) and nut (8) in rear end plate (4) and flywheel housing (9).
NOTE
·
If backlash cannot be checked at face of blower drive gear, check at accessory drive hub.
·
If gears fit tight, turn crankshaft to free before reading backlash.
·
Backlash must be minimum of 0.002 in. (0.051 mm) and maximum of 0.010 in.
(0.254 mm).
·
If proper backlash cannot be obtained, replace blower drive support.
(6)
Using a dial indicator check backlash
between blower drive assembly (3) and right
back camshaft gear (10).
(7)
Remove nut (8), screw (7) and washer (6).
b.
Follow-On  Maintenance:
·
Install cylinder head, (Para 20-88).
END OF TASK