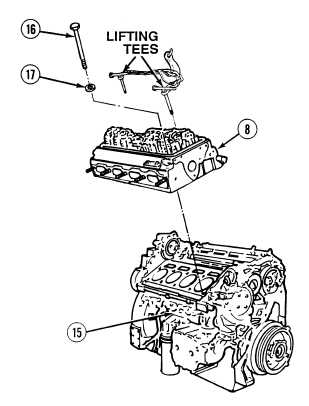 TM 9-2320-364-34-4
20-292
20-88.  CYLINDER HEAD INSTALLATION (CONT).
Cylinder head weighs 182 lbs
(83 kg).  Attach suitable lifting
device prior to installation to
prevent possible injury to
personnel.
(5)
Install two lifting tees on left cylinder
head (8).
Gaskets and seals which are not
seated properly will cause leaks
and blow-by and result in poor
engine performance and damage
to engine.  Shim strips not in
place can result in broken
cylinder head bolts.
(6)
Make final visual check of compression
gaskets, seals and shims to ensure that they
are in place before cylinder head is lowered.
(7)
With the aid of an assistant, align left cylinder head (8) with guide studs.
(8)
Lower cylinder head (8) on cylinder block (15).
Adhesives, solvents, and sealing compounds can burn easily, can give off harmful vapors, and
are harmful to skin and clothing.  To avoid injury or death, keep away from open fire and use
in well-ventilated area.  If adhesive, solvent, or sealing compound gets on skin or clothing,
wash immediately with soap and water.
(9)
Apply a small amount of International Compound No. 2 to the threads and underside of cylinder head
attaching screws (16).
(10)
Install four cylinder head washers (17) and screws (16) in locations (3), (4), (5) and (6) of tightening
sequence shown in Step (13).  Tighten screws 15 to 20 lb-ft (20 to 27 N.m).
(11)
Remove two lifting tees from cylinder head (8).
(12)
Remove two guide studs and install two remaining cylinder head washers (17) and screws (16).  Tighten
screws to 15 to 20 lb-ft (20 to 27 N.m).