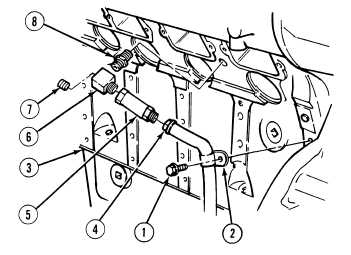 TM 9-2320-364-34-4
20-295
Materials/Parts
Sealing Compound (Item 53, Appendix B)
This task covers:
a.  Installation
b.   Follow-On Maintenance
INITIAL SETUP
Equipment Condition
Cylinder heads installed, (Para 20-88)
Tools and Special Tools
Tool Kit, General Mechanic's
(Item 240, Appendix F)
20-89.  AIR BOX DRAIN INSTALLATION.
a.
Installation.
Adhesives, solvents, and sealing compounds can burn easily, can give off harmful vapors, and
are harmful to skin and clothing.  To avoid injury or death, keep away from open fire and use
in well-ventilated area.  If adhesive, solvent, or sealing compound gets on skin or clothing,
wash immediately with soap and water.
NOTE
·
Right and left air box drains are installed the same way.  Right side shown.
·
Left side air box drain can not be installed with engine stand installed.
(1)
Coat threads of fitting (8), plug (7) tee (6)
and check valve (5) with sealing compound.
(2)
Install fitting (8) in engine block (3).
(3)
Install tee (6) on fitting (8).
NOTE
Perform Step (4) for right
side only.
(4)
Install plug (7) in tee (6).
(5)
Install check valve (5) on tee (6).
(6)
Install hose (4) on check valve (5).
(7)
Install hose (4) and cushion clip (2)
on engine block (3) with screw (1).
b.
Follow-On  Maintenance:
·
Install air box covers, (Para 20-90).
END OF TASK