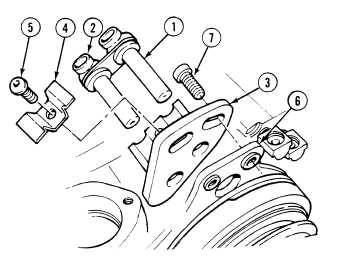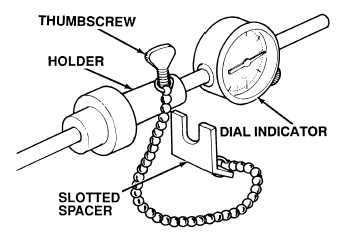 TM 9-2320-364-34-4
20-297
This task covers:
a.  Installation
INITIAL SETUP
Equipment Condition
Air box covers installed, (Para 20-90)
Tools and Special Tools
Tool Kit, General Mechanic's
(Item 240, Appendix F)
Hammer, Hand, Soft-faced
(Item 88, Appendix F)
Indicator, Dial, Timing Tool
(Item 99, Appendix F)
Tool, Timing, TRS/SRS (Item 246, Appendix F)
20-91.  TIMING AND SYNCHRONOUS REFERENCE SENSOR (TRS/SRS)
INSTALLATION.
Tools and Special Tools - Continued
Wrench, Torque (0 to 175 lb-ft [0-237 N.m])
(Item 277, Appendix F)
a.
Installation.
(1)
Position synchronous reference and timing
reference sending units (1) and (2) in
bracket (3) with bracket (4) and screw (5).
(2)
Position bracket (3) on front plate (6) with
two screws (7).
Ensure spacer is installed
between dial indicator and top of
holder.  Failure to comply may
result in damage to dial indicator
if piston is already at top of
travel when dial indicator is
installed.
(3)
Install slotted spacer on chain between dial
indicator and top of holder and tighten
thumbscrew.