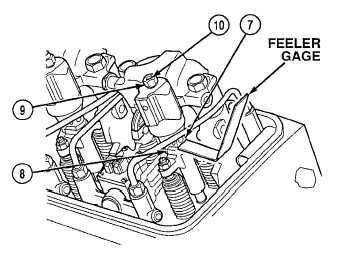 TM 9-2320-364-34-4
20-308
20-94.  ENGINE TUNE-UP ADJUSTMENTS (CONT).
b.
Engine Brake Retarder Adjustment.
To prevent engine damage make sure exhaust valves are closed and injector follower is
fully depressed.
(1)
Verify engine is still on injection stroke as noted in Step (1) of

a. Exhaust Valve Clearance Adjustment

.
NOTE
Use 0.059 in. (1.5 mm) feeler gage for hot or cold setting.
(2)
Insert feeler gage between piston foot (7)
and exhaust valve bridge (8).
(3)
Loosen locknut (9) and turn adjusting screw
(10) until slight drag is felt on feeler gage.
(4)
Check both feet of piston (7).
(5)
Tighten locknut (9) to 15 to 18 lb-ft
(20 to 24 N.m) and recheck clearance.
(6)
Repeat Steps (1) through (5) for other seven
brake retarders.
c.
Fuel Injector Timing Adjustment.
NOTE
All eight fuel injector timing adjustments are made the same way.
(1)
Rotate crankshaft by turning pulley (1) clockwise until engine is on exhaust stroke.  This can be noted
when injector push rod (2) is down, and exhaust push rods (3) are fully up.