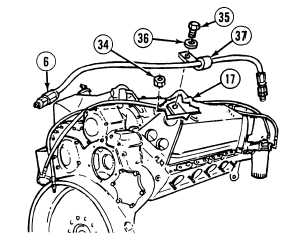 TM 9-2320-364-34-4
20-316
Materials/Parts
Oil, Diesel, Fuel (Item 32, Appendix B)
Sealing Compound (Item 53, Appendix B)
Lockwasher (2) (Item 292, Appendix E)
This task covers:
a.  Installation
b.   Follow-On Maintenance
INITIAL SETUP
Equipment Condition
Fuel pump installed, (Para 20-98)
Tools and Special Tools
Tool Kit, General Mechanic's
(Item 240, Appendix F)
20-99.  SECONDARY FUEL FILTER, HEAD AND FUEL HOSES INSTALLATION.
a.
Installation.
Fuel is very flammable and can
explode easily.  To avoid serious
injury or death, keep fuel away
from open fire and keep fire
extinguisher within easy reach
when working with fuel.  Do not
work on fuel system when engine
is hot.  Fuel can be ignited by hot
engine.
NOTE
Locate and position fittings,
elbows and tees as noted during
removal.
(1)
Install hose (6) in cushion clip (37) on
engine (17) with lockwasher (36), screw (35)
and nut (34).