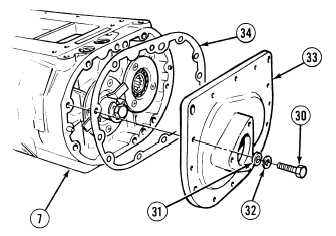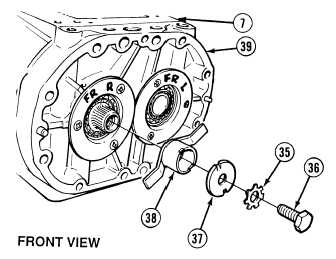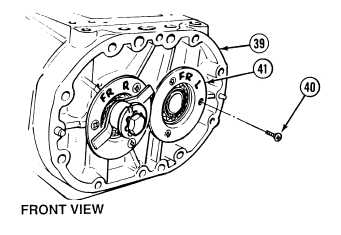 TM 9-2320-364-34-4
21-6     
21-2.  BLOWER ASSEMBLY REPAIR (CONT).
NOTE
Position drain pan under front
cover.
(20)
Remove ten screws (30), washers (31) and
lockwashers (32) from front cover (33).
Discard lockwashers.
(21)
Remove front cover (33) and gasket (34)
from blower (7).  Discard gasket.
(22)
Bend tabs of lockwasher (35) flat.
(23)
Remove screw (36), lockwasher (35), fuel
pump disk (37) and oil slinger (38) from
front end plate (39).  Discard lockwasher.
(24)
Remove wiping rag from blower (7).
All parts to be matchmarked are
to be marked as being viewed
from rear of blower.  Front
matchmarks will be different
than rear matchmarks.  Failure to
comply may result in damage
to equipment.
NOTE
Matchmark front flanged bearing
retainers.
(25)
Remove six screws (40) and two flanged
bearing retainers (41) from front end
plate (39).  Discard screws.