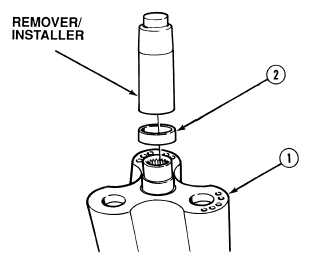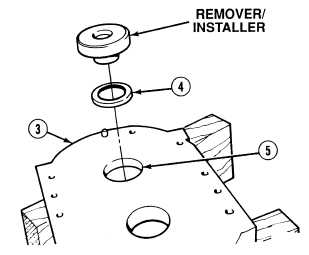 TM 9-2320-364-34-4
21-11
(12)
Check dowel pins in front and rear end
plates.  Dowel pins must project 0.320 in.
(8.1 mm) from flat inner face of end plates.
(13)
Replace all parts failing inspection.
c.
Assembly.
NOTE
Perform Steps (1) and (2) for four
oversized seal spacers on both
rotors.
(1)
Support rotor (1) on wooden blocks in press.
(2)
Using remover and installer tool, install
oversized seal spacer (2) on rotor (1) until
fully seated.
·
Do not lubricate seals, spacers, or blower rotor shafts prior to seal installation.  Teflon
seals must be installed dry.  Failure to comply will result in improper sealing.
·
Double lipped Teflon seals are packaged around plastic insert which should not be
removed prior to installation.  Sleeve protects lips of seals during shipment and acts as seal
lip expander during blower assembly.  Failure to comply could result in damage to parts.
(3)
Place end plate (3) on press on wooden
blocks with machined side facing upward.
NOTE
Part number on seal should be
facing upward.
(4)
Using large end of remover and installer
tool, install double lipped Teflon seal (4) in
end plate (3).
(5)
Press seal (4) into bore (5) until shoulder of
installer contacts end plate (3).
(6)
Repeat Steps (3) through (5) to install
remaining three seals (4) in end plates (3).