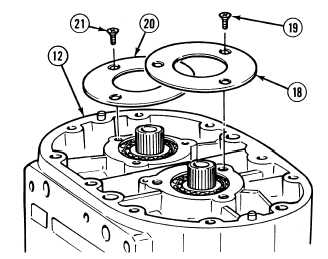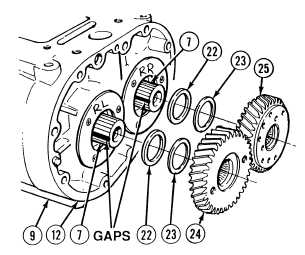 TM 9-2320-364-34-4
21-15
NOTE
Flat bearing retainers are
installed on rear end plate with
chamfered holes facing upward.
(25)
Install flat bearing retainer (18) on rear end
plate (12) with three screws (19).  Tighten
screws to 84 to 108 lb-in (9 to 12 N.m).
NOTE
Flanges on bearing retainers face
front end plate.
(26)
Install flanged bearing retainer (20) with three
screws (21) in front end plate (6).  Tighten
screws 84 to 108 lb-in (9 to 12 N.m).
(27)
Position blower housing (9) on flat surface.
Keep hands and fingers clear of
rotors.  If rotors turn, fingers
may get caught between rotors
and result in injury to personnel.
(28)
Set rotor shafts (7) at rear end plate (12) so
that each gap in splines face left side.
(29)
Install spacer (22) and shim (23) on each
rotor shaft (7).
Ensure right hand gear is
installed on right hand rotor and
left hand gear is installed on left
hand rotor or damage to parts
may occur.
(30)
Lubricate rotor shaft (7) with lubricating oil.
(31)
Start both timing gears (24) and (25) at same
time so gap in splines on gears mate with gap
in splines on rotor shafts (7).