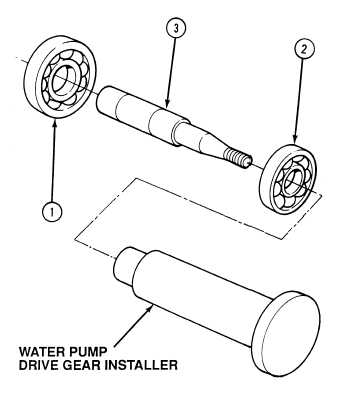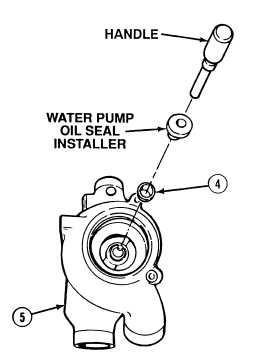 TM 9-2320-364-34-4
22-6     
22-2.  WATER PUMP ASSEMBLY REPAIR (CONT).
c.
Assembly.
(1)
Lubricate bearings (1) and (2) and shaft (3)
with lubricating oil.
(2)
Position shaft (3) in press.
Apply pressure to inner races
only in Step (3) or damage to
parts may occur.
NOTE
Bearings are installed with
numbered side of each bearing
facing in toward numbered side
of other bearing.
(3)
Using gear bearing driver, press shaft (3),
threaded end down, in inner bearing (2).
(4)
Using gear bearing driver to support
bearing, press shaft (3), threaded end up, in
outer bearing (1).
Oil seal must be installed flush
with water seal counterbore.
Water pump will not operate if oil
seal is not properly installed.
(5)
Apply lubricating oil to oil seal (4).
(6)
Using handle and oil seal installer, install oil
seal (4) in pump body (5).
(7)
Remove oil seal installer and handle from
pump body (5).