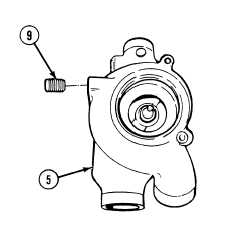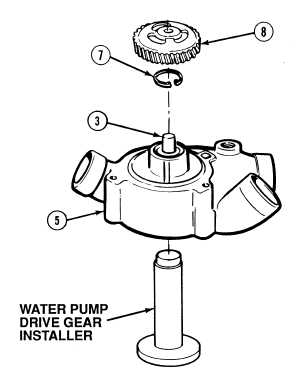 TM 9-2320-364-34-4
22-8     
22-2.  WATER PUMP ASSEMBLY REPAIR (CONT).
Use extreme care when installing
retaining rings.  Retaining rings
are under tension and can act as
projectiles when released
suddenly and could cause severe
eye injury.
(14)
Install retaining ring (7), beveled side up, in
pump body (5).
(15)
Position water pump drive gear installer
and pump body (5) in press.
(16)
Using water pump drive gear installer to
support shaft assembly from beneath, press
pump gear (8) on shaft (3).
(17)
Remove pump body (5) and water pump
drive gear installer from press.
Adhesives, solvents, and sealing compounds can burn easily, can give off harmful vapors, and
are harmful to skin and clothing.  To avoid injury or death, keep away from open fire and use
in well-ventilated area.  If adhesive, solvent, or sealing compound gets on skin or clothing,
wash immediately with soap and water.
NOTE
Perform Steps (18) and (19) if
plug was removed.
(18)
Apply sealing compound to threads of
plug (9).
(19)
Install plug (9) in pump body (5).