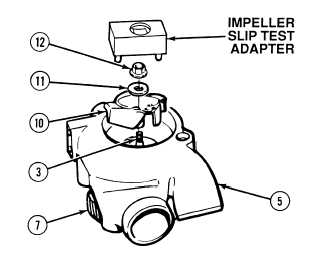 TM 9-2320-364-34-4
22-10     
22-2.  WATER PUMP ASSEMBLY REPAIR (CONT).
NOTE
If slippage is detected, perform
Step (31) through (33).
(31)
Remove locknut (12), washer (11) and
impeller (10) from shaft (3).
(32)
Repeat Steps (20) through (30).
(33)
Install 0.015 in. (0.381 mm) feeler gage
between impeller (10) and inside of pump
body (5).
(34)
While holding feeler gage in position
described in Step (26), turn impeller (10) to
check clearance between all blades of
impeller and wall of pump body (5).
NOTE
Seal, preformed packing, pump
cover and retaining ring will be
installed during Follow-On
Maintenance.  Tag parts with
water pump.
(35)
If clearance is incorrect, replace housing.
END OF TASK