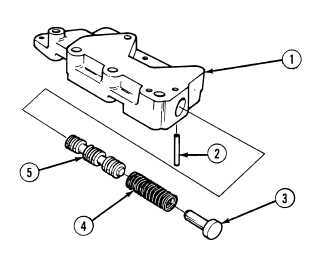 TM 9-2320-364-34-4
23-19
Compressed air used for cleaning purposes will not exceed 30 psi (207 kPa).  Use only with
effective chip guarding and personal protective equipment (goggles/shield, gloves, etc).
Failure to comply may result in injury or death to personnel.
(2)
Dry all metal parts with compressed air.
(3)
Inspect valve body and valve for nicks, burrs, and scratches.  Remove defects with crocus cloth or soft
stone.
(4)
Check that valve moves freely in bore.
(5)
Check retaining pin for deformity.  Replace if damaged.
(6)
Coat all parts with hydraulic oil.
(7)
Remove valve body (2) from soft-jaw vise.
d.
Assembly.
(1)
Install valve (5), spring (4) and valve stop (3)
in valve body (1).
Use care when replacing valve
stop.  Spring behind stop is
under tension.  Wear proper eye
protection to avoid injury to
personnel.
(2)
Push in valve stop (3) and install retaining
pin (2) in valve body (1).