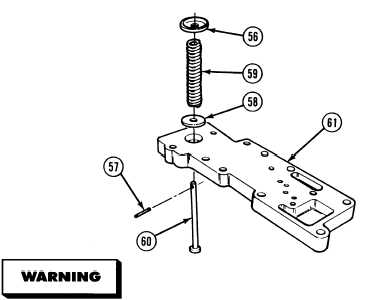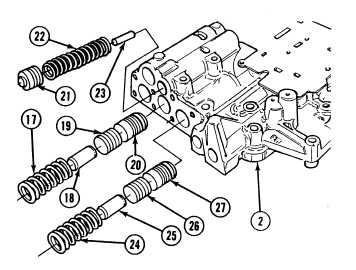 TM 9-2320-364-34-4
23-32     
23-9.  CONTROL VALVE ASSEMBLY REPAIR (CONT).
d.
Assembly.
(1)
Install valve guide pin (60), lubrication
valve (58), spring (59) and washer (56) in
front plate (61).
Washer is under spring tension.
Wear proper eye protection to
avoid personal injury.
(2)
Compress washer (56) and install retaining
pin (57) in guide pin (60).
Components in each valve bore are spring-loaded and must be restrained while installing
retaining pin.  Springs can act like projectiles if not properly restrained which may result in
severe eye injury to personnel.
·
Valve body contains springs which can be interchanged easily by mistake.  If springs are
not reinstalled in correct positions, the calibration of valve body functions will be lost.
·
Retaining pins must be installed in original location to make sure proper fit.
·
When installed, each valve must move freely (dry) in its bore by its own weight.  Lubricate
valve parts only after valve moves freely (dry) in its bore or damage may result to parts.
(3)
Install third clutch trimmer valve (20),
shorter land first, plug (19), spring (17) and
valve stop (18) in control valve body (2).
(4)
Install trimmer accumulator valve stop (23),
spring (22) and valve (21) in control valve
body (2).
(5)
Install fifth clutch trimmer valve (27),
plug (26), spring (24) and valve stop (25) in
control valve body (2).