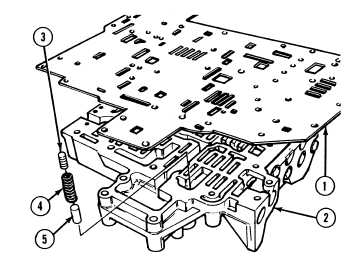 TM 9-2320-364-34-4
23-36     
23-9.  CONTROL VALVE ASSEMBLY REPAIR (CONT).
NOTE
Make sure directional priority
valve spring is solid white with
yellow stripe.
(26)
Install valve stop (5), spring (4) and
directional priority valve (3) in control
valve body (2).
NOTE
Separator plate and control
valve are held together by two
flared head spring pins.  Pins fit
through a keyhole slot in
separator plate and hold two
parts together.
(27)
Lubricate separator plate with hydraulic oil
(28)
Locate two key hole slots and flared head
pins in separator plate (1).  Slide plate
across valve body so flared heads of pins
move from larger part of key hole slots to
narrow part.
(29)
Make sure separator plate (1) and control
valve body (2) are snug.  If plate is loose,
align all holes and increase flare of two pins.