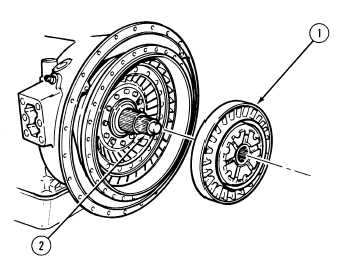 TM 9-2320-364-34-4
23-38     
Materials/Parts
Cloth, Cleaning (Item 11, Appendix B)
Oil, Hydraulic (Item 34, Appendix B)
This task covers:
a.  Removal
c.   Cleaning/Inspection
e.  Installation
b.  Disassembly
d.   Assembly
f.   Follow-On Maintenance
INITIAL SETUP
Equipment Condition
Flywheel and torque converter turbine removed,
(Para 7-10)
Tools and Special Tools
Tool Kit, General Mechanic's
(Item 240, Appendix F)
Compressor Unit, Air (Item 35, Appendix F)
Gloves, Chemical Oil Protective
(Item 81, Appendix F)
Goggles, Industrial (Item 83, Appendix F)
Gun, Airblow (Item 86, Appendix F)
Holder, Stator Roller (Item 95, Appendix F)
23-10.  TORQUE CONVERTER STATOR REPAIR.
Materials/Parts - Continued
Petrolatum (Item 43, Appendix B)
Solvent, Drycleaning (Item 68, Appendix B)
a.
Removal.
Keep outer face of stator
assembly down to prevent
bearings and springs from falling
out.
(1)
While applying slight counterclockwise
pressure, remove stator assembly (1) from
turbine shaft (2).