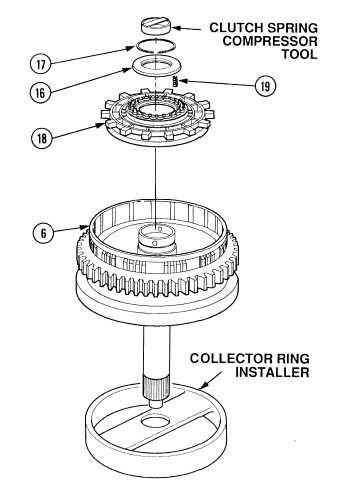 TM 9-2320-364-34-4
23-68     
23-13.  FORWARD CLUTCH AND TURBINE SHAFT REPAIR (CONT).
(9)
Install clutch spring compressor tool on
spring retainer (16).
Use care when removing
retaining rings.  Retaining rings
are under tension and can act as
projectiles when released causing
injury to personnel.
(10)
Compress spring retainer (16) with clutch
spring compressor tool and remove
retaining ring (17) from forward clutch and
turbine shaft assembly (6).
(11)
Slowly release pressure from spring
retainer (16).
(12)
Remove clutch spring compressor tool
from spring retainer (16).
(13)
Remove spring retainer (16) from forward
clutch piston (18).
(14)
Remove and discard 20 piston return
springs (19) from forward clutch piston
(18).
(15)
Remove forward clutch and turbine shaft
assembly (6) from press and position on
level surface.
(16)
Remove collector ring installer from press.