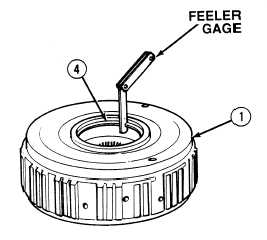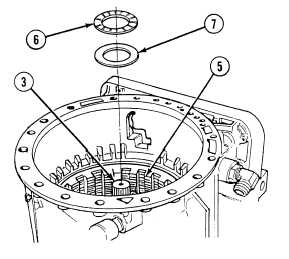 TM 9-2320-364-34-4
23-85
e.
Installation.
Seal rings are in airtight
packages and should not be
opened until ready to install.
Seal ring may expand from
humidity and cause leakage from
piston cavity and cause clutch
slippage.
(1)
Lubricate bearing (6) with hydraulic oil.
(2)
Install bottom race (7) and bearing (6) on
center support (5) and sun gear shaft (3).
(3)
Position seal rings (4) in bottom hub of fifth
clutch assembly (1) and measure end
clearance of seal ring.
(4)
Remove seal rings (4) from fifth clutch
assembly (1).  If end clearance is less than
0.010 in. (0.254 mm), discard seal ring and
repeat Steps (3) and (4).