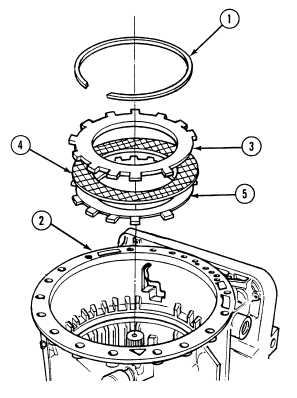 TM 9-2320-364-34-4
23-90     
23-15.  FOURTH CLUTCH REPAIR (CONT).
c.
Assembly.
(1)
Position transmission housing (2) in upward
position.
Ensure third clutch assemblies is
fully seated in transmission
housing before installation of
fourth clutch plates in
transmission housing or damage
may occur to parts.
(2)
Soak all clutch plate (4) and (5) surfaces in
hydraulic oil for a minimum of two minutes.
NOTE
Assemble clutch plates so that
cone of each plate faces same
direction as cone of adjacent
plate.
(3)
Starting with thickest external-tanged plate,
alternately install four external-tanged
plates (5) and four internal-splined plates (4)
in transmission housing (2).
(4)
Install backplate (3) in transmission
housing (2).
Use care when installing
retaining rings.  Retaining rings
are under tension and can act as
projectiles when released
causing injury to personnel.
(5)
Install retaining ring (1) in transmission
housing (2) with gap opposite oil pan side of
transmission housing (2).
d.
Follow-On  Maintenance:
·
Install fifth clutch assembly, (Para 23-14).
END OF TASK