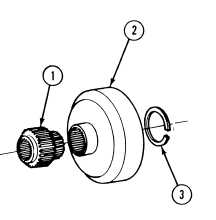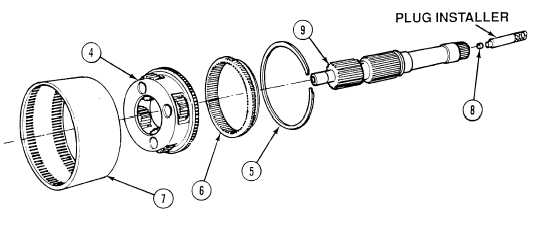 TM 9-2320-364-34-4
23-112
23-17.  PLANETARY GEARING, SHAFTS, AND THIRD CLUTCH REPAIR (CONT).
(15)
Inspect bearing for scored, pitted, scratched,
cracked or chipped races, or rollers or balls.
If any defect is found, replace bearing.
(16)
Lubricate all parts with hydraulic oil.
(17)
Inspect bearing for roughness.  Replace
bearing if rotation is still rough after
cleaning and oiling.
d.
Assembly.
Use care when installing retaining rings.  Retaining rings are under tension and can act as
projectiles when released causing injury to personnel.
(1)
Position rear sun gear (1) in center planetary ring gear (2) and install retaining ring (3) in center planetary
ring gear (2).
(2)
Install center planetary carrier assembly (4) in long splined end of planetary connecting drum (7).
(3)
Install front planetary ring gear (6) and retaining ring (5) in planetary connecting drum (7).
NOTE
Perform Step (4) only if lube orifice plug was removed.
(4)
Using orifice installer, install lube orifice plug (8) in main shaft (9) until installer contacts shaft.