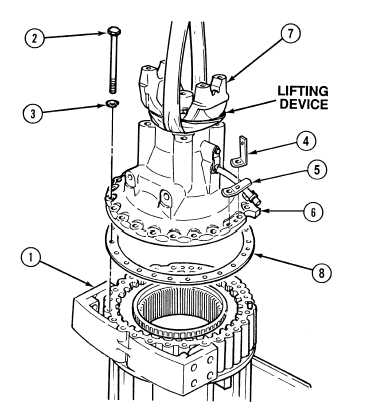 TM 9-2320-364-34-4
23-117
a.
Removal.
Rear adapter housing is held in
place by same 24 bolts that
retain rear cover to transmission
housing.  Use caution when
removing rear cover as adapter
housing may remain attached to
it.  In this case adapter housing
must be separated from rear
cover before rear cover is
removed.
(1)
Position transmission with rear adapter
housing (1) facing upward.
(2)
Remove 24 screws (2), lockwashers (3),
bracket (4) and bracket (5) from rear cover
(6).  Discard lockwashers.
Rear cover weighs 98 lbs (44 kg).
Attach suitable lifting device for
removal or installation to
prevent possible injury to
personnel.
(3)
Attach lifting device to output yoke (7).
(4)
Remove rear cover (6) from rear adapter
housing (1).
(5)
Remove and discard gasket (8) from rear
adapter housing (1).
(6)
Remove lifting device from output yoke (7).