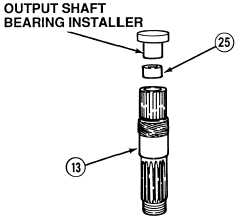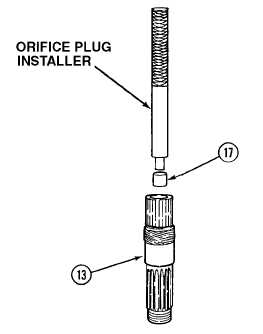 TM 9-2320-364-34-4
23-123
NOTE
Perform Step (12) only if plug
was removed.
(12)
Install orifice plug (17) in output shaft (13),
using orifice plug installer.
Adhesives, solvents, and sealing
compounds can burn easily, can
give off harmful vapors, and are
harmful to skin and clothing.  To
avoid injury or death, keep away
from open fire and use in a well-
ventilated area.  If adhesive,
solvent, or sealing compound
gets on skin or clothing, wash
immediately with soap and water.
·
A bushing must be installed into
an output shaft that had a
bushing.
·
A needle bearing must be
installed into an output shaft that
had a needle bearing. Failure to
comply may result in damage to
equipment.
NOTE
Perform Steps (13) through (15) only if
needle bearing was removed.
(13)
Coat outside of output shaft needle
bearing (25) with retaining compound.
NOTE
·
Transmissions with a serial
number lower than 2510169200
may have a needle bearing; serial
numbers of 2510169200 and
higher may have a bushing.
·
Output shaft needle bearing is
installed in output shaft with
numbered side of bearing facing
outward.
(14)
Position output shaft needle bearing (25) on output shaft (13).
(15)
Using bearing installer, install output shaft needle bearing (25) on output shaft (13) until bearing is 0.145
to 0.165 in. (3.683 to 4.191 mm) from end of shaft.