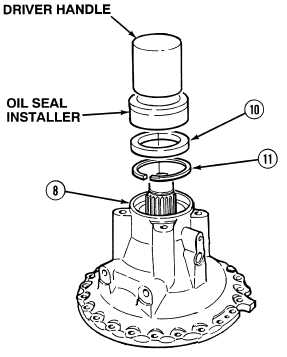 TM 9-2320-364-34-4
23-125
Use care when installing
retaining rings.  Retaining rings
are under tension and can act as
projectiles when released
causing injury to personnel.
(23)
Install retaining ring (11) in rear cover (8).
(24)
Coat inside of seal (10) with high
temperature  grease.
NOTE
Install oil seal until oil seal
installer lip contacts rear cover.
(25)
Using oil seal installer, install oil seal (10),
lip first, in rear cover (8).