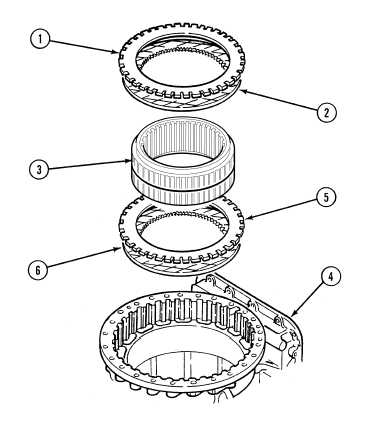 TM 9-2320-364-34-4
23-137/(23-138 blank)
c.
Installation.
(1)
Soak eight internal-splined plates (2) and (6)
in hydraulic oil for minimum of two minutes.
NOTE
·
Aligning splines in internal-
splined clutch plates during
installation will allow for
easy installation of rear
planetary ring gear.
·
Assemble clutch plates so
that cone of each plate faces
same direction as cone of
adjacent plate.
(2)
Alternately install five external-tanged
clutch plates (5) and four internal-splined
clutch plates (6) so thickest external-tanged
clutch plate is against piston.  Align splines
on internal-splined clutch plates.
NOTE
Bevel in planetary ring gear must
face up.
(3)
Install rear planetary ring gear (3) in clutch
plates (5) and (6), large diameter end first.
(4)
Install remaining clutch plates (1) and (2) in
transmission housing (4), starting with
internal-splined clutch plate (2) and
alternating with external-tanged clutch
plate (1).
d.
Follow-On  Maintenance:
·
Install first clutch and adapter housing, (Para 23-19).
END OF TASK