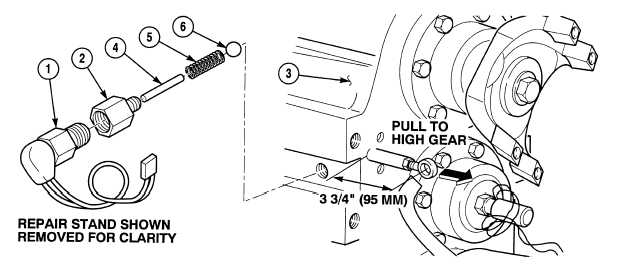 TM 9-2320-364-34-4
24-9
b.
Installation.
NOTE
Ensure that transfer case is in high gear.
(1)
Install ball (6), spring (5) and rod (4) in housing (3).
Adhesives, solvents, and sealing compounds can burn easily, can give off harmful vapors, and
are harmful to skin and clothing.  To avoid injury or death, keep away from open fire and use
in a well-ventilated area.  If adhesive, solvent, or sealing compound gets on skin or clothing,
wash immediately with soap and water.
(2)
Coat threads of neutral start switch (1) and male threads of adapter (2) with sealing compound.
Do not overtighten neutral start switch or damage to switch could occur.
(3)
Position adapter (2) in housing (3).
(4)
Install neutral start switch (1) in adapter (2).