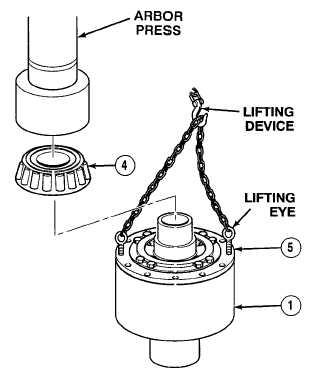 TM 9-2320-364-34-4
24-56     
24-9.  TRANSFER CASE DIFFERENTIAL ASSEMBLY REPAIR (CONT).
Press on inner diameter of
bearing or equipment damage
may result.
NOTE
Ensure that bottom of bearing is
seated on shoulder of planet
carrier.
(17)
Using press, install bearing (4) in planet
carrier (5).
(18)
Remove differential case (1) from press
and position on clean, level surface.
(19)
Remove lifting device and lifting eyes from
differential case (1).
d.
Follow-On  Maintenance:
·
Install planetary differential assembly in transfer case, (Para 24-8).
END OF TASK