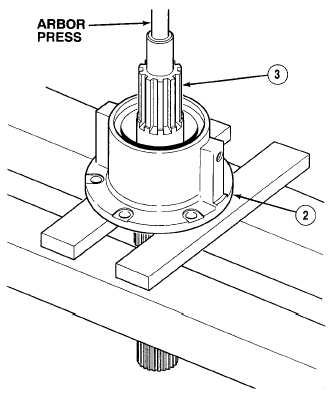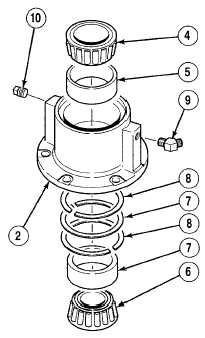 TM 9-2320-364-34-4
24-65
(2)
Using press, remove rear shaft (3) from
bearing cap (2).
Press on inner diameter of
bearing or damage to equipment
may occur.
(3)
Using press, remove bearing (4) and
spacer (5) from rear shaft (3).
Use care when removing
retaining rings.  Retaining rings
are under tension and can act as
projectiles when released causing
injury to personnel.
(4)
Remove bearing (6), two bearing races (7)
and retaining rings (8) from bearing cap (2).
NOTE
Perform Step (5) if adapter and
plug are damaged.
(5)
Remove adapter (9) and plug (10) from
bearing cap (2).