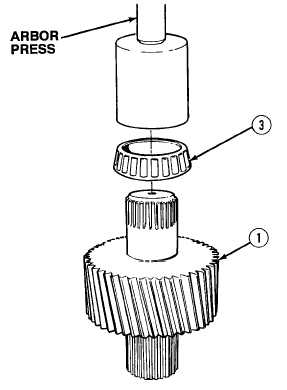 TM 9-2320-364-34-4
24-72     
24-12.  DIFFERENTIAL SHAFT REPAIR (CONT).
Install bearing by pressing on
inner diameter only.  Ensure
that bearings are seated against
shoulder of gear.
NOTE
End of cylindrical bearing with
beveled inside is installed first.
(3)
Using press, install cylindrical bearing (3)
on pinion gear (1).
(4)
With the aid of an assistant, remove pinion
gear (1) from press.
d.
Follow-On  Maintenance:
·
Install differential shaft assembly in transfer case, (Para 24-8).
END OF TASK