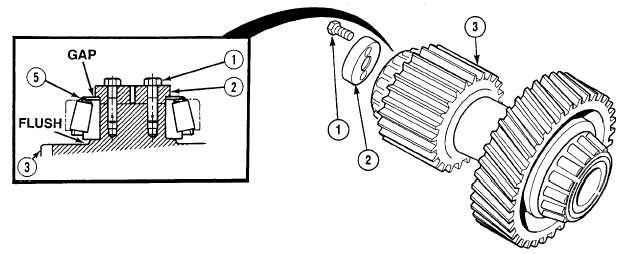 TM 9-2320-364-34-4
24-76     
24-13.  CENTER SHAFT REPAIR (CONT).
Adhesives, solvents, and sealing compounds can burn easily, can give off harmful vapors, and
are harmful to skin and clothing.  To avoid injury or death, keep away from open fire and use
in a well-ventilated area.  If adhesive, solvent, or sealing compound gets on skin or clothing,
wash immediately with soap and water.
(6)
Apply sealing compound on threads of screw (1) and in screw holes at both ends of shaft gear (3).
(7)
Install drive coupling (2) on shaft gear (3) with two screws (1).  Tighten screws to 40 lb-ft (54 N.m).
(8)
Check that gap is between drive coupling (2) and bearing (5).  If gap is not present, seat bearing against
shoulder of shaft gear (3) until gap is visible.
d.
Follow-On  Maintenance:
·
Install center shaft assembly in transfer case, (Para 24-8).
END OF TASK